---
Mongolian Veterinary Teachers visit the RVC!
Earlier this month (Nov) Dr Ayona Silva Fletcher and Mr Kim Whittlestone hosted a group of six Mongolian veterinary teachers from the Mongolian State University of Agriculture, School of Veterinary Medicine (the only vet school in Mongolia) to visit the RVC. They were here for a teacher training programme and after a 2-day introduction at the RVC's LIVE Centre to the theoretical basis of teaching and learning, the teachers were then shown examples of 'teachers at work' at our Camden and Hawkshead campuses. The practical aspects of observing different teaching sessions gave an opportunity for the Mongolian veterinary teachers to see how the theoretical aspects are incorporated into teaching sessions in large group, small group, directed learning and farm and clinical –based teaching sessions. The programme was arranged by the Swiss Agency for Development and Cooperation.
At the end of their visit one of the guests commented 'If I were 30 years old, I would want to study veterinary medicine again, but this time at the RVC, the main reason is the high level of motivation of teachers observed and met at RVC'.
The Mongolians were amazed by the enthusiasm of RVC teachers, how much we cared about teaching and how friendly we were with our students and therefore how approachable and helpful the teachers were.
So this is to say a very big thank you to all of the teaching staff that were involved in this visit and allowed our guests to observe your teaching.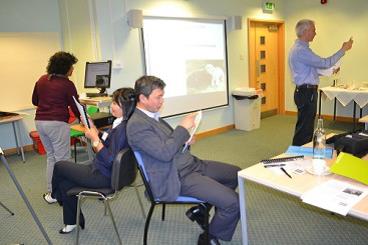 2019

2018

(14)

2017

(8)

2016

(2)

2015

(19)

2014

(18)

2013

(14)

2012

(4)
---