---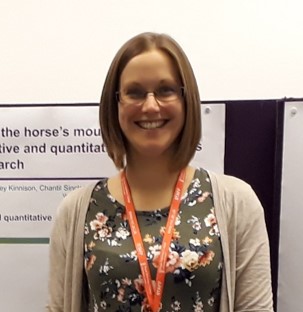 Tierney Kinnison
Position: Lecturer in Veterinary Education
Email address: tkinnison@rvc.ac.uk
Tierney studied Animal Behaviour as a BSc and MSc. Her MSc was undertaken at the University of Exeter and included a project on olfactory enrichment for fishing cats in captivity. Tierney maintains a keen interest in behaviour and welfare.
Tierney joined the LIVE Centre at the RVC in 2008 after a brief period as a receptionist at a charity veterinary clinic, where she still volunteers. Tierney worked as a Research Assistant under such mentors as Prof. Sarah Baillie, Prof. Stephen May and Prof. Ayona Silva-Fletcher. She was able to work on a variety of projects regarding veterinary and veterinary nursing student education. Her main interest was developed in the area of interprofessional education, where members of two or more professions learn with, from and about each other. It was through this interest that Tierney undertook a PhD, supervised by Prof. David Guile (Institute of Education, University College London) and Prof. Stephen May. Her thesis was entitled: Insights from Veterinary Interprofessional Interactions: Implications for Interprofessional Education (IPE) in the Veterinary Curricula. Her award was made on 28th June 2016.
After her PhD, Tierney undertook a one year post-doc within the LIVE Centre which included working on projects regarding the impact of distance learning CPD on Sri Lankan veterinarians and the experiences of participants of the Certificate of Advanced Veterinary Practice. Tierney then undertook her second post-doc, a two year position within the Department of Pathobiology and Population Science (PPS), Veterinary Epidemiology, Economics and Public Health (VEEPH) group. She researched equine inflammatory airway disease through a systematic review and the perceptions of veterinarians with regard to the disease through focus groups and a questionnaire. The project was funded by the HBLB. Upon completion of the project, Tierney was appointed as Lecturer in Veterinary Education in the LIVE Centre.
Tierney's particular interests are veterinary education, research through qualitative and mixed methods, and developing interprofessional education within the RVC's curricula.
For more information, including Tierney's publication list, please view Tierney's RVC staff page
---